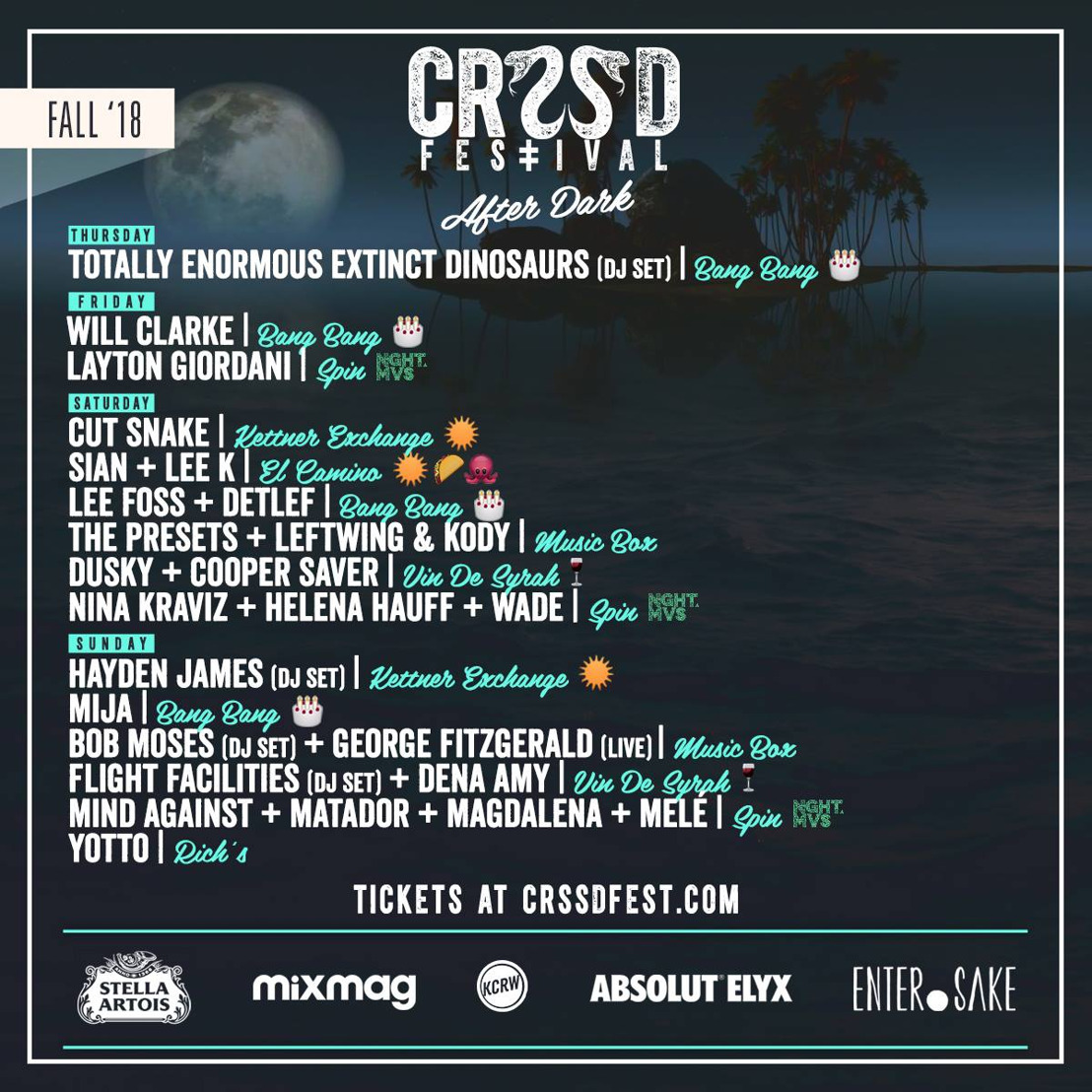 CRSSD Festival Announces By Day & After Dark Programming for Fall 2018
Bob Moses, Nina Kraviz, Totally Enormous Extinct Dinosaurs (DJ Set), Dusky, Mija, Lee Foss, The Presets, Hayden James (DJ Set), Helena Hauff, Cut Snake, Will Clarke, and More '
Wednesday, September 5, 2018 —
Bang Bang To Celebrate 5 Year Anniversary
CRSSD Festival today announced the By Day & After-Dark programming for its Fall event, welcoming a assemblage of world-class artists to a series of pre-festival and late night soireés spanning across downtown San Diego from September 27-30th.
CRSSD Festival By Day will return for the ultimate pre-festival experience from 11:00am to 2:00pm on both Saturday and Sunday. El Camino will invite Octopus Recordings bossman Sian and San Diego's own techno selector Lee K. Kettner Exchange is bringing two day-time events soundtracked by Aussie party-starter Cut Snake on Saturday and a DJ set from Hayden James on Sunday.
CRSSD's After-Dark programming will play host to sets from The Presets and Leftwing & Kody on Saturday and a DJ set from Bob Moses along with a live set from George Fitzgerald on Sunday at Music Box. NGHT MVS will takeover Spin for three nights of raw techno with Layton Giordani on Friday night, legendary underground boss woman Nina Kraviz and electro-punk superstar Helena Hauff, then a Sunday closing party from Mind Against, Matador, Magdalena, and Mele. San Diego's premiere wine parlor Vin De Syrah will bring the late night house vibes on Saturday with Dusky and Cooper Saver along with a DJ set from Flight Facilities and Dena Amy on Sunday. Rich's San Diego will invite Anjunadeep all-star Yotto to their Sunday night soiree.
Bang Bang will be celebrating their 5 year anniversary, kicking the CRSSD weekender off early with a DJ Set from Totally Enormous Extinct Dinosaurs on Thursday along with Will Clarke for a warm-up set on Friday, a tech-house takeover with Lee Foss and Detlef on Saturday, and a very special Sunday closing party with 'FK a Genre' frontwoman Mija.
CRSSD By Day and After-Dark tickets will go on-sale at 11AM PT today, September 4th. Any remaining tickets will be released for purchased on Thursday September 6th at 11 AM PT
CRSSD Festival also features a craft beer and mixology program along with locally curated food vendors from some of San Diego's finest restaurants. CRSSD is a 21+ festival.
About CRSSD Festival:
CRSSD is a spring/fall, 21+ festival taking place at Waterfront Park, on the Bay of San Diego. CRSSD debuted in March 2015 with a sold out event, and is presented by FNGRS CRSSD.
Buy After-Dark & Warm-Up Tickets : http://www.crssdfest.com/after-parties/
Buy CRSSD Tickets : CRSSDfest.com
CRSSD After-Dark Lineup and Venues:
THURSDAY
Totally Enormous Extinct Dinosaurs l Bang Bang
FRIDAY
Layton Giordani l Spin
Will Clarke l Bang Bang
SATURDAY
Cut Snake l Kettner Exchange
Dusky + Cooper Saver l Vin De Syrah
Lee Foss + Detlef l Bang Bang
Nina Kraviz + Helena Hauff + Wade l Spin
Sian + Lee K l El Camino
The Presets + Leftwing & Kody l Music Box
SUNDAY
Bob Moses(DJ Set) + George Fitzgerald(Live) l Music Box
Flight Facilities(DJ Set) + Dena Amy l Vin De Syrah
Hayden James(DJ Set) l Kettner Exchange
Mija l Bang Bang
Mind Against + Matador + Magdalena + Mele l Spin
Yotto l Rich's
CRSSD Festival Fall 2018 Lineup
AC Slater
Anti-Up: Chris Lake
Anti-Up: Chris Lorenzo
Ardalan
Autograf
Big Wild
Bob Moses
Claptone
Cut Snake
Darius (Live)
Dateless
Detlef
Dillon Nathaniel
Duke Dumont
Dusky
Elderbrook
Enzo Siragusa
Euføeni
Flamingosis
Flight Facilities
Guy J
Hayden James
Helena Hauff
Jack Beats
Jeremy Olander
John Digweed
Kiiara
Layton Giordani
Lee K
Leftwing & Kody
Louis the Child
Marian Hill
Matador (Live)
Melé
Mount Kimbie
Mija
Mind Against
Naations
Nina Kraviz
Oliver
Pig&Dan
Pnau
Shallou
Shelley Johannson
Sian
Sofi Tukker
THE HACKER
Thomas Jack
Wade
White Cliffs
Will Clarke
Yotto